Adam, Kurt & Jeremy sample High West Campfire blend.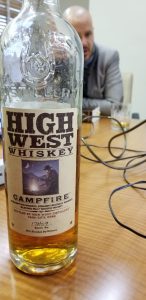 Houston, we have a problem.  Houston city council bans sex robots in response to a problem that doesn't exist. 
I can't believe it's not Baltimore: 9 year old's lemonade stand robbed at gunpoint.
Top Topic: Should the immigration court system be re-constituted as a separate, independent administrative court system under the executive?  The Federal Bar Association thinks so.
Do body cameras work?  Do they make citizens and good police safer?  Yes.  Jeremy gives his opinion.
And High West, sweet high west.  What can you say about High West Distillery's Campfire blend.  Best Drink ever?  Maybe.  The distiller's description here.  Bottom line: it's a fine blend with the best notes of the smokiness of scotch, the tart of rye in the middle, and the smooth buttery bourbon aftertaste at the end.  It's Kurt's favorite pure spirit and 5 out of 5 stars from the crew.
Enjoy the Podcast? Subscribe Below