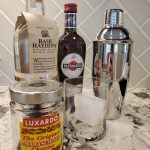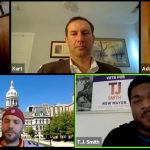 This week we sample a Manhattan Cocktail with Mayoral candidate TJ Smith.  The Manhattan Cocktail is:
2 oz. whiskey (rye or bourbon)
1 oz. sweet vermouth
stir over ice
serve neat or on the rocks with a cherry
TJ comes to the mayoral race as a newcomer to politics, being a former AA county police officer and the most recent spokesperson for Johnny O, the new County executive for Baltimore County.  We have a wide ranging conversation about TJ's plans for Baltimore City.  You can find out more about TJ at https://tjsmithforbaltimore.com/.
We have a number of other good topics including:
Lawyers on the Rocks features Jeremy Eldridge, Kurt Nachtman and Adam Crandell. This triumvirate of lawyers will give you their unsolicited opinion on everything legal and illegal, while enjoying a handcrafted cocktail. Lawyers on the Rocks is sponsored by the Law Office of Eldridge, Nachtman & Crandell, LLC and produced by Up Next Creative, LLC.