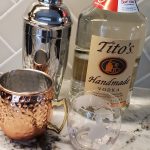 Tito's Quarantini
DRINK: Make an orange juice habanero syrup : Boil one cup of OJ with a chopped up habanero in it. Reduce till its about ½ cup.
Then take one ounce of that syrup, mix with 2 ounces of Tito's Vodka, top with Club Soda and stir together all in a rocks glass. Squeeze a lime wedge in it and taste as served. The drink is spicy, for a less spicy version consider a splash of simple syrup.
The lawyers are joined by David Kent, the Mid-Atlantic Division Manager for Tito's Handmade Vodka! David joins to discuss two great stories about Tito's:
After David jumps off the call, the guys get back to regularly scheduled programming:
Lawyers on the Rocks features Jeremy Eldridge, Kurt Nachtman and Adam Crandell. This triumvirate of lawyers will give you their unsolicited opinion on everything legal and illegal, while enjoying a handcrafted cocktail. Lawyers on the Rocks is sponsored by the Law Office of Eldridge, Nachtman & Crandell, LLC and produced by Up Next Creative, LLC.