On this week's episode the guys sample the Boulivardier.
Equal parts, Bourbon, Sweet Vermouth, Campari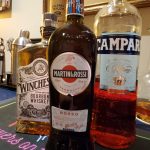 Mix over rocks, strain, Serve on rocks with an orange twist.
Loosely translated, a boulevardier is a man-about-town. The cocktail by the same name was created by Erskine Gwynne, the publisher of "Boulevardier," a magazine for expats living in Paris in the 1920s. It's a tidy story, just like the drink it inspired. Equal parts whiskey, vermouth and Campari, the Boulevardier is both adaptable and adored for its balance of bitter, boozy and sweet. Choose your ingredients wisely. The best Boulevardier, like the best Negroni, hinges on a happy marriage between base spirit and vermouth.
https://www.liquor.com/recipes/boulevardier/#gs.uqlzki
They have several great topics: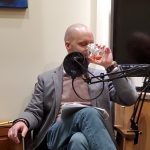 Lawyers on the Rocks features Jeremy Eldridge, Kurt Nachtman and Adam Crandell. This triumvirate of lawyers will give you their unsolicited opinion on everything legal and illegal, while enjoying a handcrafted cocktail. Lawyers on the Rocks is sponsored by the Law Office of Eldridge, Nachtman & Crandell, LLC and produced by Up Next Creative, LLC.