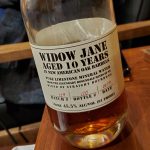 This week the guys have two guests. First, Will Minkin from the Lawyer's Campaign Against Hunger to benefit the Maryland Food Bank stops by to make the final push to hit their goal to raise over $350,000 to benefit the Maryland Food Bank.
The Young Lawyers committee was formed in 2017 in celebration of the Lawyers' Campaign Against Hunger's 30th anniversary. Their goal is to engage attorneys and other members of the legal community that are under 40 in the fight to end hunger.
This year, the Young Lawyers seek to raise $10,000. You can help them get there by making a gift to their online fundraiser. https://mdfoodbank.org/lawyers-campaign-against-hunger/
Immigration Attorney Gabriel Moreno of KIND stops by to discuss his experience working at the border and handling immigration cases with children.
The guys sample Widow Jane 10 year Brooklyn Bourbon.  And they sing a few tunes.
Lawyers on the Rocks features Jeremy Eldridge, Kurt Nachtman and Adam Crandell. This triumvirate of lawyers will give you their unsolicited opinion on everything legal and illegal, while enjoying a handcrafted cocktail. Lawyers on the Rocks is sponsored by the Law Office of Eldridge, Nachtman & Crandell, LLC and produced by Up Next Creative, LLC.