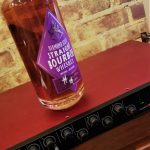 Brian Kuebler, lead investigative reporter for WMAR-2 stays on for another episode.  Brian recently published a book, The Long Blink.  From the blurb about the book: "THE LONG BLINK is a narrative nonfiction book by Emmy Award-winning journalist, Brian Kuebler, who exposes the staggering cost of the American trucking industry's rising crash rate through the intimate struggle of Ed Slattery, who is left to piece his family back together after a trucker fell asleep at the wheel and killed his wife and maimed his son. From the historic, public settlement with the trucking company and an emotionally explosive confrontation with its driver to one father's ongoing fight on Capitol Hill for safer roads, the Slattery's story is a revealing, emotional look at the rapidly growing danger we all face from the passing lane each and every day."
The guys also discuss the media, current events, and some of Brian's favorite war stories.
The group continues their tour of 50 states, after Illinois last week and Delaware this week.  This week they're sampling Painted Stave's Diamond State high rye Straight Bourbon.  More here.
Topics include:
Lawyers on the Rocks features Jeremy Eldridge, Kurt Nachtman and Adam Crandell. This triumvirate of lawyers will give you their unsolicited opinion on everything legal and illegal, while enjoying a handcrafted cocktail. Lawyers on the Rocks is sponsored by the Law Office of Eldridge, Nachtman & Crandell, LLC and produced by Up Next Creative, LLC.