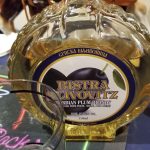 This week Jeremy is off atoning during the Yom Kippur holiday, and in honor of that we're sampling Slivovitz, a traditional eastern European Plum Brandy.  Slivovitz is a classic Jewish beverage, making the rounds at many Passover celebrations and sipped while mourning the loss of loved ones for generations.  Co-hosting this week is attorney Kate Stenlake.  Kate practices immigration and family law with an immigration focus.    We have a number of great topics:
Impeachment: What is it, how does it work, and where do we go from here, the nuts and bolts of the process.
It's not just Baltimore: Taco Bell Debacle
Lawyers on the Rocks features Jeremy Eldridge, Kurt Nachtman and Adam Crandell. This triumvirate of lawyers will give you their unsolicited opinion on everything legal and illegal, while enjoying a handcrafted cocktail. Lawyers on the Rocks is sponsored by the Law Office of Eldridge, Nachtman & Crandell, LLC and produced by Up Next Creative, LLC.