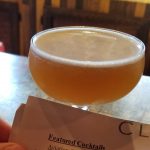 Today the lawyers fly solo while hosting their first LIVE studio audience event @ CLOCK Restoration bar at The QG.  They're sampling a Lion's Tail cocktail, which consists of:
Redemption Bourbon
Lime Juice
Demerara syrup
Amontillado Sherry
black walnut bitters
habanero bitters
They discuss a number of great topics including:
Lawyers on the Rocks features Jeremy Eldridge, Kurt Nachtman and Adam Crandell. This triumvirate of lawyers will give you their unsolicited opinion on everything legal and illegal, while enjoying a handcrafted cocktail. Lawyers on the Rocks is sponsored by the Law Office of Eldridge, Nachtman & Crandell, LLC and produced by Up Next Creative, LLC.