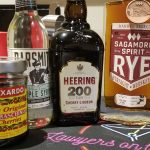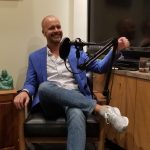 Special drop-in guest James Bragdon who helps break down an important Court of Appeals decision and adds some balance to our UNC heavy lineup by being a Duke grad.  We dive deep into insight as a clerk on the State's highest court and inside the decisions on the most important cases.
This week we sample a Cherry Heering Old Fashioned (no, it's not a Manhattan).
Here's the recipe:
In a mixing glass with ice, combine 2 ounces of rye, 3/4 ounce Cherry Heering liquor and 1/4 ounce of simple syrup. Add 2 dashes Angostura and a dash of orange bitters, if you have 'em. Stir until well chilled. Strain into a rocks glass over ice. Garnish with a cherry and a big twist of lemon peel—twisting over the surface of the drink to spray its citrus oils all over.
On the agenda:
Lawyers on the Rocks features Jeremy Eldridge, Kurt Nachtman and Adam Crandell. This triumvirate of lawyers will give you their unsolicited opinion on everything legal and illegal, while enjoying a handcrafted cocktail. Lawyers on the Rocks is sponsored by the Law Office of Eldridge, Nachtman & Crandell, LLC and produced by Up Next Creative, LLC.