On this weeks episode and continuing our tour of different state's Distilleries, the lawyers sample Wyoming Whiskey's Outryder. Here are the notes from the distiller's website:
OUTRYDER
A straight American whiskey with higher rye content than our Small Batch Bourbon, but short of a true rye whiskey.  Different and great.  Perfect for sipping or making cocktails.
It's crafted from two distinct mash bills distilled in November of 2011.  The first mash bill contains 48% winter rye, 40% corn, and 12% malted barley and the second reflects a traditional bourbon mash bill of 68% corn, 20% winter rye, and 12% malted barley.  In keeping with Wyoming Whiskey's tradition, these grains are all non-GMO and grown in Byron, Wyoming by Rageth Farms.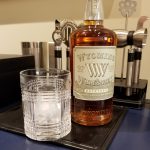 100 PROOF.  BOTTLED IN BOND.
TASTING NOTES
COLOR: amber to light copper
NOSE: brown baking spices of cinnamon and allspice with creamy browned butter
PALATE: clove and allspice, freshly baked dark rye bread with hints of orange blossom honey
MOUTHFEEL: cinnamon spice with creamy butterscotch pudding
FINISH: long, spicy rye finish coupled with hints of buttery toffee
We have a number of fun topics including:
Lawyers on the Rocks features Jeremy Eldridge, Kurt Nachtman and Adam Crandell. This triumvirate of lawyers will give you their unsolicited opinion on everything legal and illegal, while enjoying a handcrafted cocktail. Lawyers on the Rocks is sponsored by the Law Office of Eldridge, Nachtman & Crandell, LLC and produced by Up Next Creative, LLC.