On this weeks episode the lawyers sample the Mint Julep cocktail.  The Mint Julip is a concoction usually of bourbon, sugar, water, and fresh mint and crushed ice.  It's the traditional drink for the Kentucky Derby and more history can be found on the
wikipedia page here
. We made ours :
2.5 oz. bourbon (we used 4 roses)
1.5 tsp superfine sugar
seltzer water
crushed ice (which we didn't have, so we used regular freezer ice instead).
Place the mint leaves in the bottom of an old-fashioned glass and top with the sugar. Muddle these together until the leaves begin to break down. Add a splash of seltzer water, fill the glass 3/4 full with crushed ice, and add the bourbon. Top with another splash of seltzer, stir, and garnish with a sprig of mint.
Recipe courtesy Alton Brown.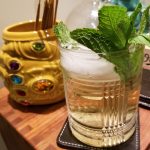 The topics this week are all super-ific:
Baltimore's politicians don't get it.  We juxtapose a story of the city wanting to hand out money to developers while the city's population bottoms out at the lowest levels in 20 years.
Eric Holder got arrested in this weeks' I can't believe it's not Baltimore!
Enjoy the Podcast? Subscribe Below