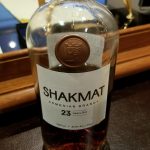 On this week's episode we sample Shakmat Armenian Brandy.  According to Shakmat's website it is the Armenian word for the game of Chess.  It has complex flavors that leave the lawyers puzzled and ultimately changing and shifting their reviews over the episode.
We chat about several great topics on this week's episode, including:
Lawyers on the Rocks features Jeremy Eldridge, Kurt Nachtman and Adam Crandell. This triumvirate of lawyers will give you their unsolicited opinion on everything legal and illegal, while enjoying a handcrafted cocktail. Lawyers on the Rocks is sponsored by the Law Office of Eldridge, Nachtman & Crandell, LLC and produced by Up Next Creative, LLC.