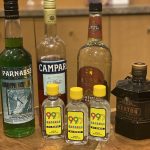 A cocktail designed by Arbutus born David Byrne, the Psycho Killer:
2 oz. Irish Wiskey
.75 oz. Campari
.5 oz creme de cacao
.5 oz creme de banana
2 dashes of absinthe
Not as bad as it sounds!
Dr. Ronald Means is a forensic psychiatrist who has a current clinical practice helping adolescents and children through Catholic Charities but has prior work experience and a private practice as an expert in forensic psychiatry, being admitted in state and federal courts as experts.
Lawyers on the Rocks features Jeremy Eldridge, Kurt Nachtman and Adam Crandell. This triumvirate of lawyers will give you their unsolicited opinion on everything legal and illegal, while enjoying a handcrafted cocktail. Lawyers on the Rocks is sponsored by the Law Office of Eldridge, Nachtman & Crandell, LLC and produced by Gideon at Up Next Creative, LLC.