On this week's episode the lawyers are joined by Oakland County Circuit Court Family Law Division's Referee Kate Weaver (akin to a Magistrate Judge in Maryland).  Referee Weaver joins us to discuss all things family law and COVID.  Particularly how COVID has shaped how her court conducts business and impacts families every day.  We also sample a Smoked Rosemary Negroni.
1 oz. Gin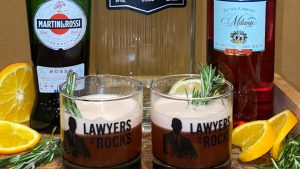 1 oz. Sweet Vermouth
1 oz. Campari
1/2 oz. Rosemary Syrup
1/2 oz. lemon juice
splash of OJ & 1 egg white.
Does it matter if Dad is vaxxed? The intersection of Family Law and COVID
TOP TOPIC: Illinois school district has after school satan club
I Can't Believe It's Not Baltimore: Pranksters hijack virtual court link and stream porn Djokovic hearing & visa withdrawl
Rust move armorer sues bullet distributor for passing live rounds as dummy rounds
Lawyers on the Rocks features Jeremy Eldridge, Kurt Nachtman and Adam Crandell. This triumvirate of lawyers will give you their unsolicited opinion on everything legal and illegal, while enjoying a handcrafted cocktail. Lawyers on the Rocks is sponsored by the Law Office of Eldridge, Nachtman & Crandell, LLC and produced by Gideon at Up Next Creative, LLC.