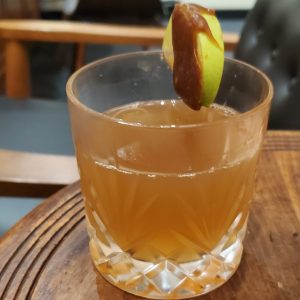 On this week's episode Jeremy is off (in the comment section) and Gideon is yet again deceased. Clarissa Lindsey is filling in and talking all things Women's Rights.  We also sample the Apple Spice Manhattan in the spirit of the fall.  It is
Candied apple garnish
2 oz. bourbon
2 oz. apple cider
1/2 oz. apple brandy
1/2 oz. sweet vermouth.
We cover a number of great topics, including:
Lawyers on the Rocks features Jeremy Eldridge, Kurt Nachtman and Adam Crandell. This triumvirate of lawyers will give you their unsolicited opinion on everything legal and illegal, while enjoying a handcrafted cocktail. Lawyers on the Rocks is sponsored by the Law Office of Eldridge, Nachtman & Crandell, LLC and produced by Gideon at Up Next Creative, LLC.