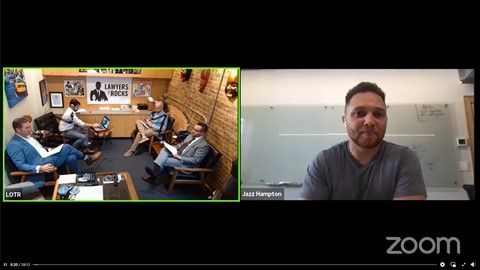 On this week's episode we are sipping on Roknar Rye from Far North Spirits, a Minnesota-based distiller.  We get a chance to chat via Zoom with Jazz Hampton, the CEO of an app startup called TurnSignl, also from Minneapolis Minnesota.  It's an app that instantly records any police encounter or traffic accident.
After the great chat with Jazz, we go onto our regular show.
TOP Legal Topic: Street Justice or Self Defense?  What is the Castle Doctrine and how is it applied
I Can't Believe It's Not Baltimore: Fayette County clerk assistant accused of defrauding old people
If there's enough time for Jeremy to ride: Peloton follow up story: SEC and DOJ investigations
Lawyers on the Rocks features Jeremy Eldridge, Kurt Nachtman and Adam Crandell. This triumvirate of lawyers will give you their unsolicited opinion on everything legal and illegal, while enjoying a handcrafted cocktail. Lawyers on the Rocks is sponsored by the Law Office of Eldridge, Nachtman & Crandell, LLC and produced by Gideon at Up Next Creative, LLC.