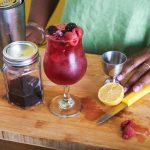 On this week's episode the lawyers are joined by the Honorable Judge George Hazel of the United States District Court of Maryland.  Judge Hazel is a New York native, Georgetown law grad, and Jeremy & Kurt's old boss from their collective crime fighting days at the Baltimore City SAO where Judge Hazel was the Chief Deputy State's Attorney.  We are also sampling the Juneteenth Jubliee Juice, a recipe from the Bitter Southerner website.  It's a fantastic drink that you will just have to sample to enjoy.
2 ounces favorite spirit (optional)
2 ounces pomegranate juice
3/4 ounce lemon juice
3/4 ounce honey syrup*
Ginger beer
Favorite fruit (for garnish)

The lawyers chat with Judge Hazel about a wide variety of topics, including his days as a crime fighter, the New York Knicks and Judge Hazel's plans for them if he was their GM, and being a sad Jets fan.  It is a fantastic discussion that you have to listen.  He also stays on to discuss Zoom court and the future of technology in the judiciary.
Is zoom court here to stay?  Is Zoom court good or bad or both?
Lawyers on the Rocks features Jeremy Eldridge, Kurt Nachtman and Adam Crandell. This triumvirate of lawyers will give you their unsolicited opinion on everything legal and illegal, while enjoying a handcrafted cocktail. Lawyers on the Rocks is sponsored by the Law Office of Eldridge, Nachtman & Crandell, LLC and produced by Gideon at Up Next Creative, LLC.