On this week's episode, the Lawyers sample the Steamroller cocktail.  It's a simple beer cocktail and quite tasty: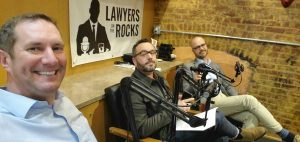 1 ounce St-Germain elderflower liqueur
1 ounce freshly squeezed lemon juice
1 ounce rye whiskey
1/2 ounce Heering Cherry Liqueur
Ice
1 lemon twist
1 (12-ounce) bottle steam beer, such as Anchor Steam, chilled
Today we hit on only 2 topics:
The Mosby investigation
I Can't Believe it's not Baltimore: Lobbyist dead in 60 million dollar bribery probe.
Lawyers on the Rocks features Jeremy Eldridge, Kurt Nachtman and Adam Crandell. This triumvirate of lawyers will give you their unsolicited opinion on everything legal and illegal, while enjoying a handcrafted cocktail. Lawyers on the Rocks is sponsored by the Law Office of Eldridge, Nachtman & Crandell, LLC and produced by Up Next Creative, LLC.